Auto Wrecker Services
When you need professional towing services in Jacksonville, Call the best in Jacksonville for reliable towing. Hessco is Jacksonville's Only Towing Company that is so confident in our skills and abilities that we can Guarantee Satisfaction with your experience of our service.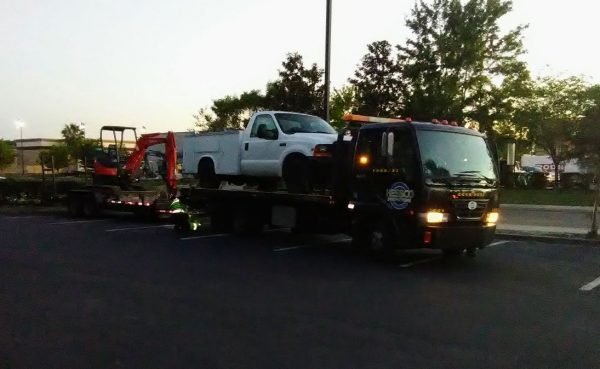 No matter the service you need like quick flatbed towing, regular tow truck service in Jacksonville or just Roadside Assistance, give us a call and find out why we're the highest-rated Towing Company in Jacksonville. We promise you won't be disappointed in our Jacksonville towing services! We maintain the highest level of performance and safety while being your most convenient and comfortable choice. Don't take our word for it, trust what our customers are raving about.
24 Hour Emergency Towing Service
How precious is your time for you? We treat your time with the utmost importance. Our towing services team is on standby so there is No Waiting. We offer 24 hours a day towing to meet all your towing needs. We promise accurate arrival times for every job. You deserve the best high-end luxury towing service. When your time means so much, why wait for hours on such an important emergency roadside services like Battery Jump Start, Fuel Delivery, Flat Tire Change, Lockout Entry, or Winch Out. If you're stranded out at at night, remember we offer 24 hours a day towing services to meet all your towing needs.
If you are dealing with any of these issues, you need help right now, not hours from now, you need swift towing in Jacksonville to get you back on the road, and you probably also want a trusted towing company. Being stuck on the side of the road is scary and dangerous. Being stranded and feeling helpless is traumatic enough as it is. You will never wait one second longer for a tow truck to arrive than absolutely necessary when you call Hessco Tow Truck Company! You can rest assured a towing in Jacksonville team will arrive soon. When Hessco says that a tow truck is on the way to you, it's definite and would arrive soon. Hessco respects your time and will diligently work to make an unpleasant moment into a better experience. So, why not go for the best towing in Jacksonville? Call us now if you're stuck and we'll be right there to help.
Recommended Tow Truck Company
When you need a tow truck fast, call the original towing company that invented Jacksonville's first "30 minutes or less" arrival time to your location. Now you will find many other tow truck companies have been trying to copy this innovative Rapid Response service but are unable to duplicate our consistent punctuality and excellent service. Don't take our word for it, check out our reputation to see for yourself. Don't be fooled by imitators. Go with the our company that cares so much about you that we come up with the most innovative services for your comfort and convenience. Don't be stranded, save our 24 hours a day/7 days a week towing services to meet your towing needs!
Best Truck Towing and RV Towing Jacksonville FL
We will not be your cheapest option since the excellent service of this caliber does cost more to provide. But as most testimonials on our Google profile show, everyone agrees that our original Rapid Response Roadside Assistance service is well worth every dime. Specialty towing is what we do best. Custom show cars and specialty rims are no problem. We have the only Motorcycle Towing Team of 2 experienced riders. Damage-Free towing service is an art that we practice until we can't get it wrong. There is no need to gamble with your safety or risk getting bad service or thousands in damage. Don't just take our word for it. Let Hessco Towing Innovations reputation speak for us. Check out over one hundred 5 star reviews on our Google listing to see for yourself. We promise you won't be disappointed. Don't hesitate to call our 24 hour Jacksonville Fl towing service if you need a tow at anytime.
WHY CHOOSE US?
Fast Response Time

Immediate Dispatch to your location

Friendly and Professional Customer Support

A Plethora of Positive Reviews to our name

Licensed and Trained Roadside Assistance Professionals
Kimyarda Jones
2022-04-14
Middle of the day and a million things to do so of course I get a flat. Mike came out fast and friendly changed my tire and gave me good tires info to boot.. I didn't get the name of the dispatcher but she was very helpful and understood my panic mindset. Thanks for such great service!!
Mike was very prompt and efficient. I will definitely use again when I screw up which is quite often sad to say. Thanks again for the quick polite service. Two thumbs up!!!!
Quick service and friendly. Provided guidance to us out-of-towners on where to find a replacement tire.
So I had a flat tire when I got to work. Call this company and My experience with Michael was absolutely amazing. He was on time waiting for me when I got off work, very professional, friendly, and fast. I would definitely use the service again if need be.
This place definitely provides excellent service. They're friendly, makes everything a smooth process and has came to me multiple times in 30 min or less. I highly recommend using their services in your time of need. Thank you guys!!
Battery Jumpstart
We scoured the globe for the best and smartest jump box to ensure the safest jump start battery service for your car, truck, or semi-tractor. This protected system allows for a powerful boost to the dead battery without those harmful effects cables can have on your cars' high tech components.
Wrecker Service
Our versatile well-maintained fleet of tow trucks and wreckers along with our highly trained teams and expert partners can assist in all your roadside scene management needs from accident recovery, vehicle extrication, submerged vehicle, wreckage clearing, traffic control, and towing to the auto mechanic repair shop or other location of your choice.
Flat Tire Service
Dealing with a flat tire on the side of the road can be frustrating and dangerous even for those experienced with changing that flat tire with the spare. Even in a parking lot dealing with a flat tire can be so disheartening when you do all that work only to find out the jack doesn't go high enough, a lug is stripped, some lugs are on too tight, or the spare is flat too. We have all the tools to provide you with the most professional and safest flat tire change with your spare.
Battery Delivery and Installation
Highly trained resourceful technicians are well equipped to ensure your battery installation is of the highest professional standards. Get same-day auto battery replacement usually in about an hour or two, traffic permitting. Enjoy convenient mobile car battery delivery and installation at home or work.
Diesel Fuel Delivery
Emergency roadside diesel delivery in about 30 minutes* in Jacksonville, FL. Our Rapid Response Semi Roadside Assistance diesel delivery team will be on the way to your location within 5 minutes from the end of your call. (*traffic permitting) Get a limited amount of diesel delivered so you can get to the next truck stop.
Pop Lock Service
Successfully unlocking a car door when you lock the keys inside requires a balance of the right tools and the right technique. Our professional Lockout Entry Team work together to eliminate most chances of damage. Our Rapid Response Team to pop a locked car door open is available 24/7 in all areas of Jacksonville including Northside, Eastside, Westside, Callahan, Hilliard, Yulee.
Roadside Assistance
No Waiting for our innovative Rapid Response Road help service. We are always available 24 hours a day/ 7 days a week. Ask about reimbursement so you can get paid back for enjoying faster roadside assistance service. That's right, there is no need to wait hours in a dangerous situation for AAA, Good Sam, Geico, Road America or your insurance. You can pay upfront out of pocket for immediate Roadside Assistance in about 30 minutes* right now and get paid back according to your policy, usually within just a few days. (*traffic permitting)
WE ACCEPT DEBIT AND CREDIT CARDS