24 Hour Flat Tire Service Jacksonville FL
When searching for help with changing a flat tire in Jacksonville check out our highly rated roadside assistance service. No tools? No problem! We carry everything necessary to ensure proper & safe flat tire service. We care enough to torque the lug nuts. Call now for immediate help.
Trying out how to fix a flat tire on the side of the road can be frustrating and dangerous. You have to find the lug wrench and fit it on the lug bolts. Confused yet? How about finding the hydraulic jack and figuring out how that works. The owner's manual will only get you so far.
You haven't even considered how dirty you will get when you have to loosen the lug nuts and remove the flat tire. Just call Hessco Roadside Assistance in Jacksonville, FL and you won't have to worry about where to position the jack or finding wheel chocks to keep the car from rolling or if there is air in the spare. We will do everything, all you have to do is call for swift service so this will be over soon.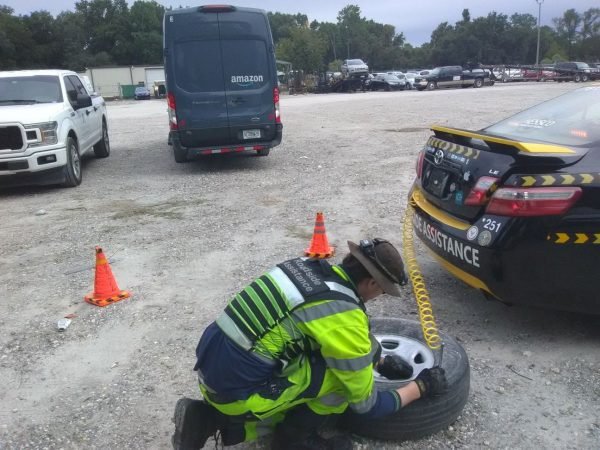 Don't let a flat tire slow your business down. Our exclusive Rapid Response Roadside Assistance for businesses will change a flat tire with your spare on a light or medium duty truck, van, or trailer. Roadside Technicians are well equipped to provide dignified & professional flat tire service.
24-Hour Tire Change with your Spare Roadside Assistance. Whether you've got a flat, a tire that's blown out, or any other roadside assistance emergency requiring a tire change, our qualified service providers can change your tire with your spare donut and get you back on the road quickly.
Let us change that flat tire with your spare, so you don't have to worry about or struggle with how to change a flat tire! If you do not have a spare tire, you will need Towing Service. Without a spare, also known as a donut, Hessco Roadside Assistance can offer you a tow to your favorite tire shop, repair shop, home, dealership, or other preferred location.
Roadside Tire Change Jacksonville FL
Many times, knowing how to change a flat tire with your spare is not enough to get the job done. The jack may not work or be tall enough. The lugs may be stuck. Usually the spare is flat, too! Or any number of other things could happen to derail your mission of changing that flat tire with your spare, contact us for the fastest roadside assistance in Jacksonville, FL.
If you do run into problems while changing that flat tire with your spare, or need air for a flat spare, call the best roadside assistance in Jacksonville FL for Fast, Reliable Technician with all the proper tools and equipment to handle any problem that a flat tire can throw out. If your spare turns out to be bad then you will need the best 24 hour towing Jacksonville fl
Flat Tire Service Jacksonville
What Should I Do If I Get A Flat Tire And Don't Know How To Change It?
Never Fear, Hessco Roadside Assistance of Jacksonville, FL Is Near! Changing a Flat Tire with your Spare can be a daunting task. Especially if you are on the side of the road. Semi-trucks barreling past at 80 miles an hour is not an experience most want to endure. Call Hessco so Fast, Efficient, Bold Technicians can perform that Tire Change for you. If you do want to change your own tire, utilize the following tips for safety.
1. First Things First – Find A Safe Place to Park
Turn your hazard lights on. Pull out of traffic, and find a firm, safe and stable surface to change your tire. If possible, do not park on dirt or grass – your jack may sink into the dirt and become unstable. For safety precautions, avoid hills to prevent your car from rolling.
2. Secure Your Vehicle
Before you change a flat, turn off your engine and engage the emergency or parking brake. Keep your car from rolling by placing a wheel chock or heavy rock behind the wheels opposite side of the car that's being raised.
3. Grab Your Jack, Spare Tire, and Tools
If you've never used your jack, spare tire or tire tools before, consult with your owner's manual to check where it is located. After you've found these essentials, we recommend you try them out and get familiar with how to use them, so you're comfortable performing the next few steps in a crunch. Waiting to learn how to use your tools on a dark, rainy night can be zero fun and quite dangerous. We recommend doing a practice run when your tire is not flat so that you can get a feel for how to perform the task.
4. Loosen the Lug Nuts Slightly – Before You Jack Up Your Car
If your car has a wheel cover (hubcap), remove it first by using a screwdriver or the flat end of the jack handle or lug wrench. Note: On some cars, the wheel cover is held in place by the lug nuts. Leave this style cover on the flat wheel.
Use the lug wrench to loosen the lugs nuts by turning the wrench counter-clockwise.
Hold the wrench firmly and push down. Never pull up on the wrench. If the nuts are too tight, use penetrating oil to loosen them or use your foot to push down on the lug wrench.
Loosen the lug nuts only one turn. Do not remove the lug nuts at this time.
5. Lift Up Your Car
Consult with your owner's manual for the best place to secure your jack. Follow these directions carefully! Crank your car up to at least 6 inches, or however much is need to remove the flat tire. If you notice instability, lower your car to reposition your jack. Caution: Never place a jack under the axle or suspension member.
6. Remove the Lug Nuts and Wheel
Use the lug wrench to remove the nuts. Place the lug nuts where you won't lose them like on the inside of your car door. Pull the wheel off and set it aside.
7. Remove the Flat Tire
Remove the flat tire with both hands. Pull the tire towards you and place it under the car, just in case your jack is unstable and drops your car. If you have difficulty removing the tire due to rust, hit it with a rubber hammer or use a liquid penetrator to loosen the joints.
8. Put On Your Spare
Place your spare tire in front of the wheel well, align it with the wheel bolts, and then add your lug nuts. Turn the lug nuts clockwise by hand as tightly as possible. Then take your wrench and turn the bolt tight enough to secure the tire before lowering it to the ground. Do not completely tighten.
​
IMPORTANT Note:
There are different tightening sequences for 4- and 5 -lug wheels. Tightening the nuts in the proper sequence ensures that the wheel mounts properly and that the stress is evenly distributed over the wheel.
9. Lower Your Car
Slowly lower your vehicle to the ground. Remove the jack and block. Tighten the lug nuts as much as possible, in the proper sequence.
Caution:
Many spare tires are not full-size, normal tires. These smaller spares can't be driven at normal speeds and should only be driven for short distances. Consult your owner's manual for instructions and warnings for driving with a compact spare.
WHY CHOOSE US?
Fast Response Time

Immediate Dispatch to your location

Friendly and Professional Customer Support

A Plethora of Positive Reviews to our name

Licensed and Trained Roadside Assistance Professionals
Kimyarda Jones
2022-04-14
Middle of the day and a million things to do so of course I get a flat. Mike came out fast and friendly changed my tire and gave me good tires info to boot.. I didn't get the name of the dispatcher but she was very helpful and understood my panic mindset. Thanks for such great service!!
Mike was very prompt and efficient. I will definitely use again when I screw up which is quite often sad to say. Thanks again for the quick polite service. Two thumbs up!!!!
Quick service and friendly. Provided guidance to us out-of-towners on where to find a replacement tire.
So I had a flat tire when I got to work. Call this company and My experience with Michael was absolutely amazing. He was on time waiting for me when I got off work, very professional, friendly, and fast. I would definitely use the service again if need be.
This place definitely provides excellent service. They're friendly, makes everything a smooth process and has came to me multiple times in 30 min or less. I highly recommend using their services in your time of need. Thank you guys!!
Battery Jumpstart Service
We scoured the globe for the best and smartest jump box to ensure the safest jump start battery service for your car, truck, or semi-tractor. This protected system allows for a powerful boost to the dead battery without those harmful effects cables can have on your cars' high tech components.
Towing Service
Consistently proven to be the best tow truck in Jacksonville for reliable towing and roadside assistance. A-HESSCO provides guaranteed 5-star tow truck service to every customer. Need a professional towing company in Jacksonville Fl? Call the best in Jacksonville for reliable towing and roadside assistance.
Wrecker Service
Our versatile well-maintained fleet of tow trucks and wreckers along with our highly trained teams and expert partners can assist in all your roadside scene management needs from accident recovery, vehicle extrication, submerged vehicle, wreckage clearing, traffic control, and towing to the auto mechanic repair shop or other location of your choice.
Battery Delivery and Installation Service
Highly trained resourceful technicians are well equipped to ensure your battery installation is of the highest professional standards. Get same-day auto battery replacement usually in about an hour or two, traffic permitting. Enjoy convenient mobile car battery delivery and installation at home or work.
Diesel Fuel Delivery Service
Emergency roadside diesel delivery in about 30 minutes* in Jacksonville, FL. Our Rapid Response Semi Roadside Assistance diesel delivery team will be on the way to your location within 5 minutes from the end of your call. (*traffic permitting) Get a limited amount of diesel delivered so you can get to the next truck stop.
Tow Truck Service
You deserve only the best high-end luxury towing service in Jacksonville. No matter the service you need, Hessco Innovations is an ideal option, give us a call to find out why we're Jacksonville's top choice for a Towing Company. We promise you won't be disappointed!
Pop Lock Service
Successfully unlocking a car door when you lock the keys inside requires a balance of the right tools and the right technique. Our professional Lockout Entry Team work together to eliminate most chances of damage. Our Rapid Response Roadside Assistance Team to pop a locked car door open is available 24/7 in all areas of Jacksonville including Northside, Eastside, Westside, Callahan, Hilliard, Yulee.
Roadside Assistance
No Waiting for our innovative Rapid Response Roadside Assistance service. We are always available 24 hours every day including weekends and all holidays. Ask about reimbursement so you can get paid back for enjoying faster roadside assistance service. That's right, there is no need to wait hours in a dangerous situation for AAA, Good Sam, Geico, Road America or your insurance. You can pay upfront out of pocket for immediate Roadside Assistance in about 30 minutes* right now and get paid back according to your policy, usually within just a few days. (*traffic permitting)
WE ACCEPT DEBIT AND CREDIT CARDS