Jacksonville is located at the south of Georgia, and right around the St. John's River, where it meets with the Atlantic Ocean, making it possible to have one of the best fishing spots for catching different species of fish seasonally.
Among many activities that you can enjoy doing in Jacksonville, such as biking, visiting the beaches, playing golf, convenient accessible fresh and saltwater alternatives make fishing more adventurous either as a professional angler or as a first-timer who wants to swivel in a big fishing adventure.
The accessible waterways of Jacksonville make it enjoyable and fun-filled, noting the fact that you're probably considering either offshore game fishing, nearshore, or inshore fishing.
Chartering a boat for your deep-sea fishing adventure, or renting one if on an island is the best option for fishermen. There is a need for novices to employ the help of a professional guide who will help them get the best out of their fishing trip.
Fishing Jacksonville FL
In a fishing adventure, knowing what you want, and the best place to find it is of great importance.  You can always have worthwhile fishing experiences throughout the Jacksonville area, not minding how you get out on the water.
The following spots should be on the top of your list, if you want to catch fishes like flounder, reds, trout, and many others.  You can use this fishing near me interactive map as another good resource to find fishing spots near you.
Get to Fish on the St. Johns River
Because of the availability of various waterfront parks and preserves, it gives room for an effective means to cast your line in order to catch the different fish species such as Redfish, Black Drum, Flounder, Trout, Spanish Mackerel, Sheepshead, Tarpon, and many other inshore saltwater fish. Catching of fishes like catfish, specks, largemouth bass depends on the water's change from black to fresh.
Ortega River Railroad Bridge
Getting over to this particular fishing spot early guarantees a good catch. You can catch sunfish, catfish, bream, bluegill, largemouth bass, gar, and a lot more.
Get to Fish on the Intracoastal Waterway
Try fishing in the flats, wetlands, creeks, and marshes that build up the intercoastal waterway in Jacksonville. Paddleboarding or kayaking, several docks, and piers at parks can be used, even renting a boat.
Sisters Creek Park and Boat Ramp
To enjoy both inshore and offshore fishing, this ramp is located at the convergence of Sisters Creek and St. Johns River.
Jacksonville Beaches
This has always been one of the best fishing spots. As a novice, you can commence fishing activity from the shore on various beaches. Make the fishing experience on this spot more adventurous by using a boat to the gulf stream where you will get to catch fishes like Bluefish, Flounder, Sea trout, Snapper, Sailfish, whiting, cobia, pompano, tarpon grouper and a lot more.
The Nassau Sound Fishing Bridge
Go through Amelia Island State Park to enjoy fishing in this location. While the mile-long bridge spans Nassau Sound. You can catch jack, tarpon and drum.
Fishing in Jacksonville Beach Pier
This area gives a clear view of the Atlantic Ocean. While fishing here, you might get to catch one of the deep-water types of fish.
Guana River Wildlife Management Area
Being a protected site, it will give you convenient access to surf fishing. Lake Ponte Vedra or Guana Lake equally grants you the opportunity of catching fishes like flounder, sea trout, redfish and black drum.
Stockton Park
Enjoy fishing in this spot with your family and friends as its location is along the St. Johns River.
Stinson Park
This Park is located close to the Ortega River Bridge.
Memorial Park
The Park is one of the treasure bases of Jacksonville that is located on the banks of the St. Johns River. While fishing here you can as well toss your line over the balustrades into the St. Johns River.
George Crady Bridge Fishing Pier State Park.
You will certainly find it worthwhile fishing on the George Crady Bridge Fishing Pier State Park. The fishes you might catch here include tarpon, hitting, Jack and drum. Go over to the Line Bait and Tackle Shop should there be a need for fishing bait and tackle supplies.
Mill Cove
This particular fishing spot Mill Cove is a gulf located 7.6 miles from Jacksonville.
Fort George Island Cultural State Park Apart from other activities such as hiking, off-road bicycle, boating that can be done At Fort George Island Cultural State Park, you can enjoy fishing as well.
Dutton Island Preserve.
The preserve is located at the west of Mayport Road which gives a clear view of the wildlife along the Intracoastal waterway. It guarantees a tranquil escape and it is part of the Timucuan Trail parks. Whether from the pier or on a kayak, you need to fish on this spot early in the morning.
Pablo Creek ICW South. Finger creek is one of the good spots you might get a good catch and this is located in the JTB area.
The Gulf Stream
This particular spot for fishing is located 60 miles offshore.
Hanna Park Offshore Artificial Reefs.
Going fishing in this spot, you might catch snapper, cobia and greater lumberjack close to the reef which in Jacksonville is the suitable oasis if you want to fish.
Nassau Sound Fishing Bridge. Have a great fishing experience in this spot, you might get to catch drum, tarpon, Jack, whiting and many others. It might interest you that the mile-long fishing bridge even spans Nassau Sound.
Mayport Village
The Little Jetties
Beach Marine
Browns Creek
Oak Harbor
Clapboard Creek
Castaway Island Preserve.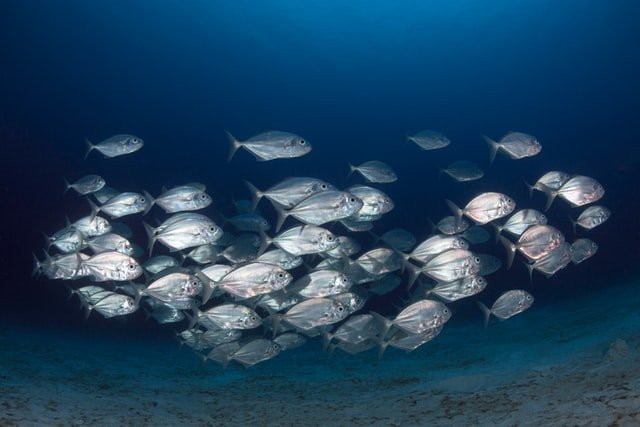 Jacksonville Fish Species
 There are many fish species you can catch in the fishing spots around Jacksonville. The following is the list of usual fish suspects.
King Mackerel
They rarely move alone which make for the easy catch of many of them in that running into one often means that there are more around. Kingfish as often called can usually be found around structures like reefs, ridges and wrecks. This species can even be seen when fishing from the shore during the warmer months.
Cobia
Cobia being a mighty fish will always be in the top list of many Florida anglers for it's great taste, fun fishing experience and stable numbers. This specific species of fish is rich in protein and often attain to satisfying sizes
Red Snapper
Red snapper fish is a species of fish that is highly sought after because of its rewarding taste. Having no closed season in state waters is an added advantage that fishing for red snapper gives the anglers in Jacksonville as some of them are not able to set aside a date during the short Gulf season, but still want a shot at these prized fish.
Tarpon
Tarpon is often called silver king because of its fighting spirit. The presence of Tarpon in the local water's year-round creates no shortage of actions on Jacksonville inshore adventures. Tarpon is migratory fish, and the anglers aim for a big catch during June and September.
Redfish and Black Drum
Black Drum are considered for their delicious taste and large size. What is redfish? Redfish seems to be known better among first-time anglers and seasoned anglers. Aiming at fishing for Redfish makes for a possibility of running into Black Drum. These species often go together like peanut butter and jelly!